URBANUS plans 'banxuegang art center' in shenzhen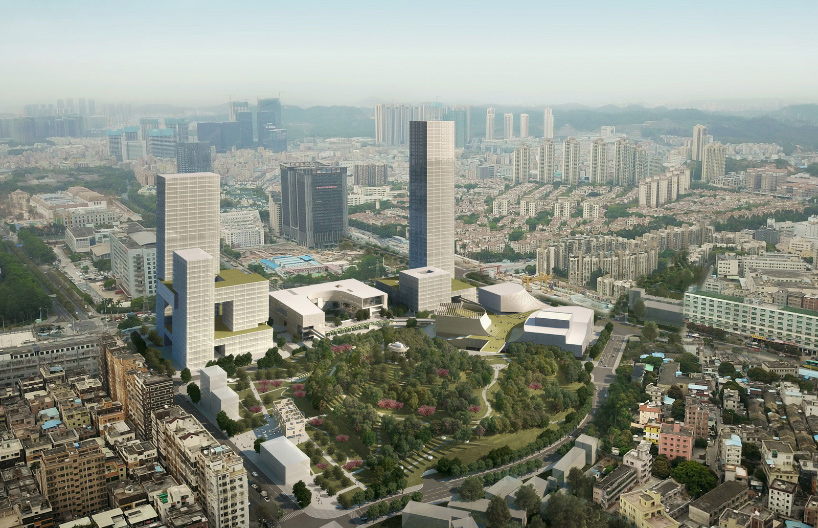 beijing-based architecture practice URBANUS has won an international competition to design a cultural complex in shenzhen?s longgang district. surrounded by urban villages, modern residential communities, and industrial areas, banxuegang science and technology city is primarily known as the headquarters of technology firm huawei. the brief outlined by local authorities called for an ?art center? that would take full advantage of the site?s topography and landscape to create more open public spaces. conceived as a new city park, the project will allow its users to enjoy recreational and cultural activities.

all images courtesy of URBANUS
 
 
URBANUS? overall concept was to fully integrate the art center and the park ? known as the ?golden mountain? ? into a whole, in which the main buildings house a theater complex as well as a science and art museum. a 1,600-seat grand theater will be joined by a black box theater and a public art center that appear as separate volumes on the roof canopy. open 24 hours a day, an inner street connects the scheme and provides access to the rooftop square.
 
 
oriented towards the park, a multi-purpose art gallery forms a U-shaped courtyard. here, a ground floor commercial block sits below an exhibition hall that offers views across the undulating landscape. ?the grand theater and the science and technology museum become an extension of the park?s public path and form the daily system of active public space for the residents,? explains URBA...
URL:
http://www.architectureadmirers.com/
--------------------------------
MVRDV converts Seoul overpass into plant-covered walkway