renzo piano completes 'eighty seven park' in miami beach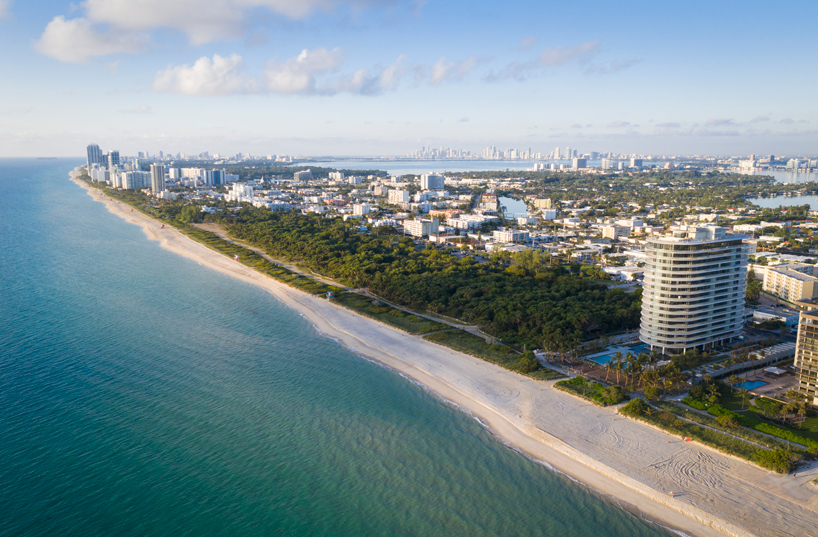 renzo piano building workshop has completed its breezy residential tower ?eighty seven park? overlooking the sands of miami beach. while vertical construction began in 2017, the newly completed building is defined by its sweeping, cantilevered volume which seems to float lightly above the ocean and park. the tower?s bright interiors designed by RDAI, a parisian studio known for their work with Hermčs, while landscape architecture, including a private park for residents, is envisioned by west 8 in rotterdam. overlooking the atlantic ocean to the east, the structure expresses a hybridization of both craft and innovation.

image by the boundary
 
 
renzo piano building workshop introduces eighty seven park as a project that echoes the sunny atmosphere of miami beach. home to 70 villas suspended in the clear miami sunlight, the fluid design presents an integration of architecture, design, and the natural landscape. even from the initial concept sketches ? comprising simple lines projecting above the trees ? the design of both the building and its outdoor spaces, were developed in harmony with each other. linear private gardens designed by west 8 together with the elliptically planned tower exist in a quiet dialogue.
image by the boundary
 
 
the breezy, light-filled interiors have been composed by paris-based studio RDAI. these spaces, especially those programmed for gathering, are filled with lush plant life and contemporary detailing. the building soars upward through the t...
URL:
http://www.architectureadmirers.com/
--------------------------------
Zaha Hadid video memorial includes tributes from Foster, Rogers, Ingels, Levete, Libeskind and more
-------------------------------------