JKMM architects to extend national museum of finland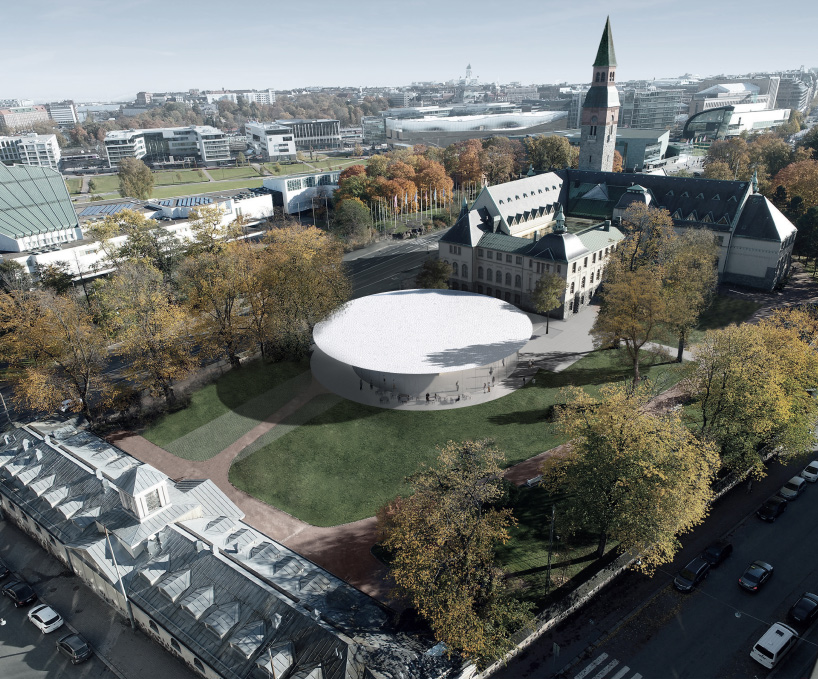 in an anonymous design competition to extend the national museum of finland, a proposal by JKMM architects has been selected ahead of 184 other competing schemes. the brief called for a plan that would extend the existing institution, which opened in 1916 as one of finland?s finest examples of national romantic architecture. the addition was required to offer: increased exhibition space; workshops; a new restaurant; and improved access, including a new entrance for the museum. it was also important that the extension could support a dynamic program of events, while working in tandem with the existing building.

all images courtesy of JKMM architects
 
 
titled ?atlas?, JKMM?s competition-winning design takes the form of a circular volume set within the museum?s stone walled garden. it was important to the architects that the new addition remained independent of the original building, while respecting the historic garden. the scheme?s freestanding sculptural quality addresses these concerns by creating a pavilion-like structure in keeping with the traditions of structures found in park and garden settings.
 
 
underneath the cantilevered 2,000 ton concrete roof, the new ground floor restaurant faces the sunniest aspect of the garden and can be used independently of the rest of the museum. its walls are made of structural glass that curve around the extension creating a sense of a floating roof as well as introducing natural light to the floors below, where a stepped ?publi...
URL:
http://www.architectureadmirers.com/
--------------------------------
MINI Living Urban Cabin explores how future cities may merge public and private, says Sam Jacob