Beautiful Black Kitchens: 20 Exquisite Ideas and Inspirations Cutting Across Styles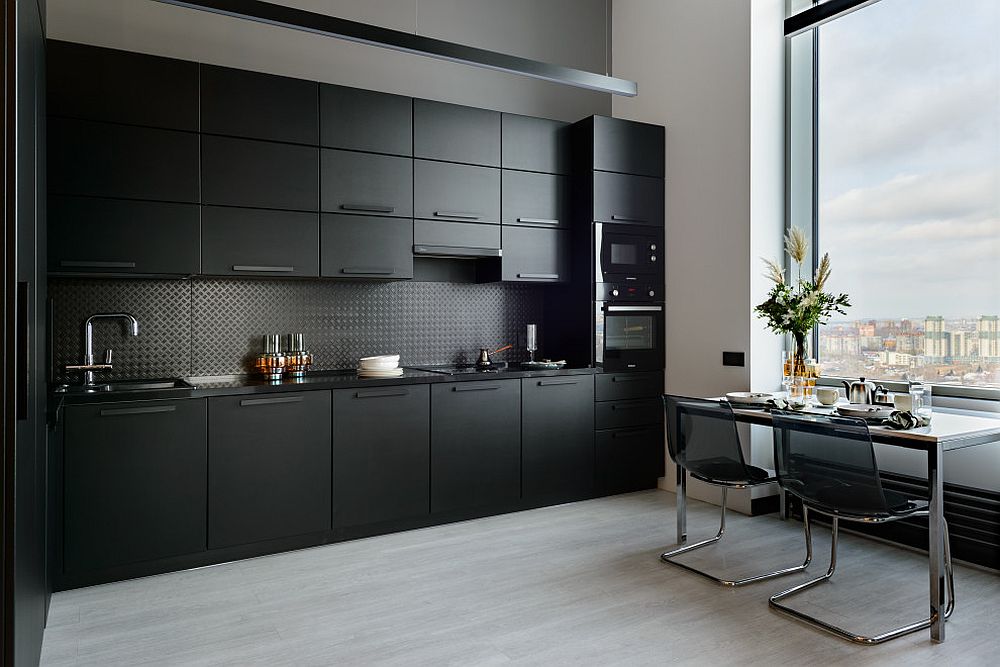 If there is one room in the house that we obsess about when it comes to decorating and redesign, then it is undoubtedly the kitchen. It is a space that is increasingly becoming the social hub of the house that brings entire family together. The idea of a perfect kitchen is one that often involves light colors, a neutral backdrop and pops of trendy colors like blue and yellow. But that is not the only option available and there are times when darker themes work better than their lighter counterparts when used right. This largely depends on style, theme chosen and the overall space on offer. Today, we delve into the world of kitchens in black and the best ones around.
Single-wall kitchen in black with dining space next to it and a large window that ushers in the view [From: utkina darya]
Best black kitchens are ones that combine a sense of sophistication with functionality and do so without moving away from the chosen style. Be it contemporary style, minimal or transitional, kitchens in black work even better when thing are polished and urban in the kitchen. But they can be equally impressive in industrial, rustic or other more traditional-themed kitchens. Cutting across themes and styles, this is a look at the 20 best black kitchens to kick-start the New Year ?
A Striking Black Backdrop
Creating a dark backdrop in black in the kitchen is not all that hard if you are willing to give the kitchen black shelves and cabinets that extend from floor to ceiling. Dark ...
URL:
http://www.decoist.com/
--------------------------------
Space Modification Unit transforms Beijing hutong property into tranquil tea house