apple and foster + partners introduce 'island of serenity' to heart of taipei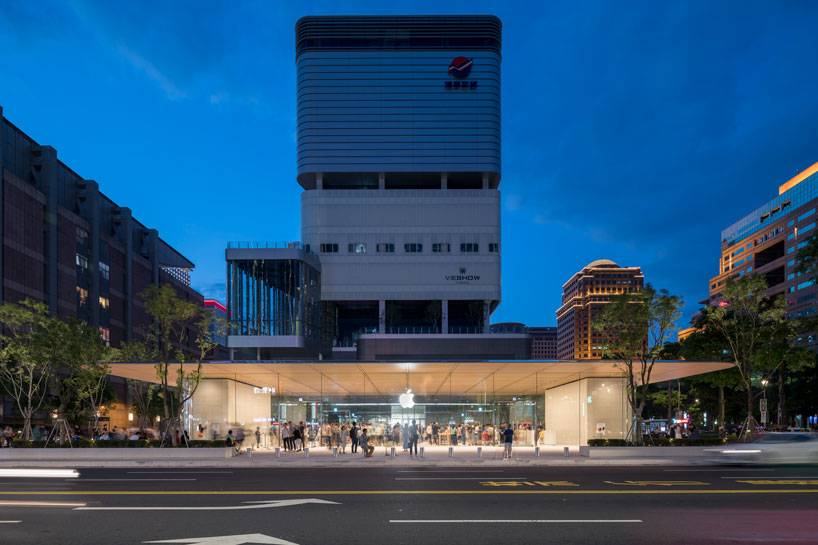 apple and foster + partners open taipei?s newest architectural and cultural destination, apple xinyi A13. xinyi is a young, vibrant area situated along the eastern edge of the city and filled with touristic attractions, shops, and entertainment. together with the skyscraper taipei 101, it is one of the most popular destinations on the island. taking advantage of the neighborhood?s vitality, the project creates an inviting new plaza with a delicate pavilion to provide a space for learning and creativity in the heart of taipei. in developing the scheme, foster + partners worked in close collaboration with the design team at apple led by chief design officer, jony ive.

image © nigel young / foster + partners
 
 
with a prominent relationship with the street, apple xinyi A13 by foster + partners introduces an atmosphere of tranquillity to the area with a pavilion and public plaza. the plaza introduces a serene island within the bustling city. it is flanked on two sides by unique sculpted water features, inspired by the picturesque image of taiwan?s mountainous geography and the natural rock formations in penghu. it is a composition of large, meticulously carved blocks of basalt surrounded by groves of shady camphor trees. covered by a thin film of water, the top surface of each block appears as if immaculately flat and mirrored while the lateral surfaces are rough. the textural duality generates a dynamic contrast between handcrafted and machined finishes. several nozzles emb...
URL:
http://www.architectureadmirers.com/
--------------------------------
Tokujin Yoshioka and LG reveal science-fiction-inspired light installation in Milan