Guerrilla Greening: GIFs Present Lushly Vegetated Visions of Major Cities
Cities get called "concrete jungles" for good reason, but it doesn't have to be that way. Introducing a lot more vegetation could dramatically change how cities feel for their residents, their capacity to support wildlife, and their air...
Couple Turns Reclaimed Shipping Containers Into Floating NYC Summer House
Looking for a way to enjoy New York City in the summertime, a couple recently designed a seasonal floating residence out of reclaimed shipping containers, utilizing the breeze and waves of Rockaway Bay for a chill outdoor lifestyle. "The goal...
The Big Green Bus: See How a Carpenter Transformed This Double Decker Into a Hip Retro Vacation Spot
When you think of double-decker buses, you most likely picture the large, bright red ones driving down the streets of London. You probably don't think of them as potential overnight accommodations, or hot vacation destinations. Well think...
The World?s Largest Greenhouse Unveiled at This Year?s Venice Biennale
Designs for the largest single-dome greenhouse on the planet have just been unveiled at the 17th International Architecture Exhibition – La Biennale di Venezia. Presented by non-profit cultural organization Zuecca Projects and French architecture...
Tree-Inspired Solar Powered Shopping Center Offers a Twist on Traditional Chinese Markets
Just about anything we can come up with has already been perfected by nature. To find the best ways to make bullet trains more aerodynamic, produce the ideal wing shapes for aircraft, or develop the grippiest materials for climbing vertical...
Chicago Gets Its First Renovated Passive House
Woman-owned architecture firm HPZS has completed the first certified single-family Passive House renovation in Chicago, demonstrating that retrofitting America's older homes to meet energy-efficient goals is possible and can even be done at a...
Crazy Network of Illegal Subterranean Tunnels Transformed Into Modern ?Mole House?
For 40 years, neighbors of the modest Victorian home at 121 Mortimer Street in the Hackney neighborhood of London heard strange noises coming from underground, watching piles of rubble build up in the yard. All the while, the home fell into slow...
Dunk House: A Sky-Blue Home for a Basketball Player by Studio Malka Architecture
There's no mistaking the fact that this pale blue residence is home to a basketball enthusiast. After all, the first thing you see from the curb is a cantilevered volume stretching out a hoop over a painted court on the driveway. Even if architect...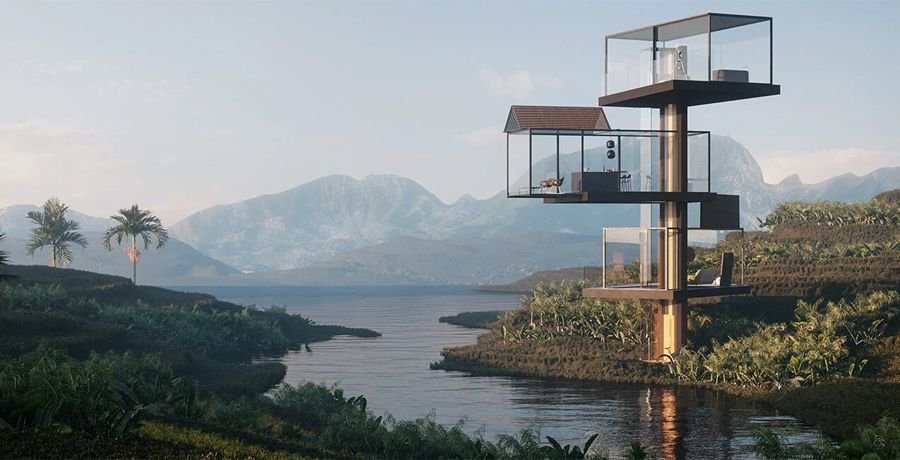 This Radiating Glass House Concept Pushes the Boundaries of Vertical Architecture
A revolutionary elevator model is the backbone of this sleek, spiraling glass home conceptualized over the rice fields of Xianggong, China by Italian firm Adriano Design. Company founders and brothers Davide and Gabriele Adriano, known for their...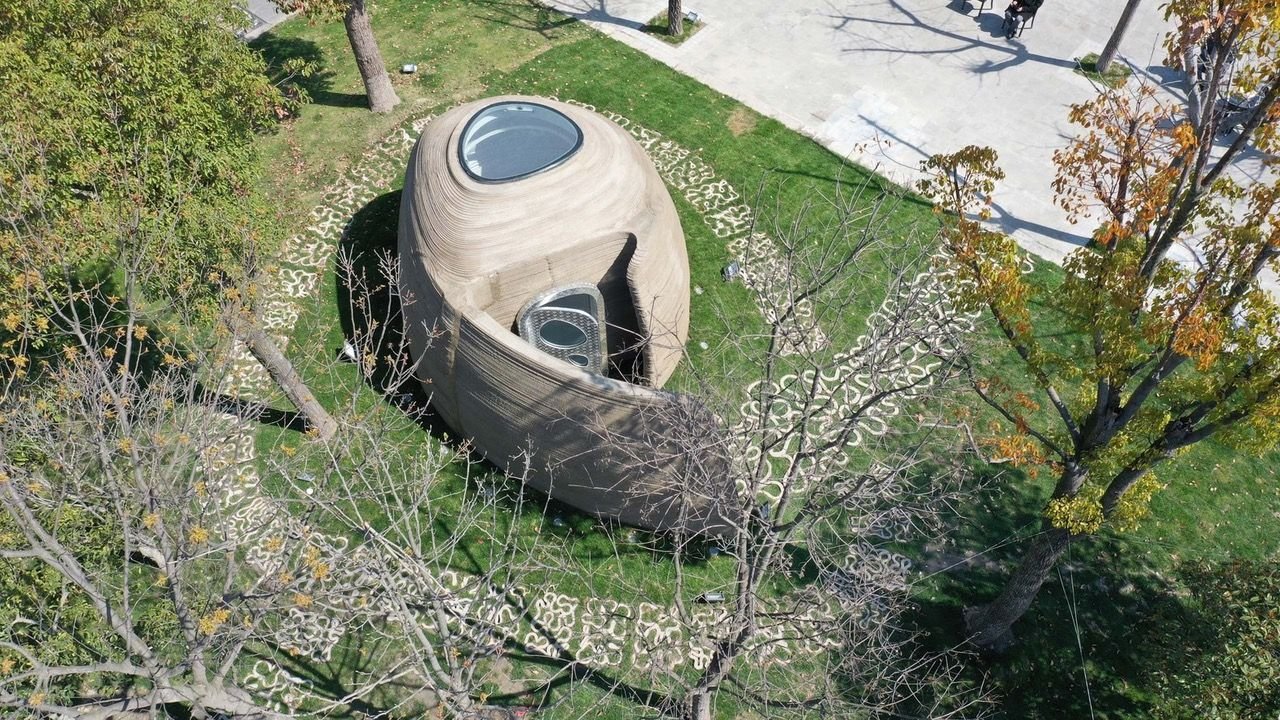 Read Beneath a Giant Skylight in This 3D-Printed Concrete Book Cabin
One of the most exciting aspects of 3D-printed architecture is the way it allows us to break free from the squares and rectangles that usually define contemporary buildings. Suddenly, all kinds of organic shapes are not just possible, but easy to...
Zaha Hadid?s Próspera Island Project Blends Sustainability with Luxury Living
Turns out luxury architecture can be both customizable and environmentally-friendly, according to Zaha Hadid Architects and their new Roatán Próspera Residences project. A terraced community of living modules, the Próspera complex will be...
Selgascano?s Second Home Hollywood is an Experimental Outdoor Office Packed with Plants
Some architects attempt to liven up drab and uninspiring office spaces by bringing in a little greenery. Spanish architecture firm Selgascano did the opposite for co-working space Second Home Hollywood, bringing the offices outside. It doesn't...
Architoys: NFT Auction Sells Digital Images of Virtual Architectural Spaces
If you aren't particularly tech-inclined, the mere thought of NFTs might give you a headache. Fully known as "non-fungible tokens," which means they're unique and can't be traded for any other form of cryptocurrency, NFTs have exploded in...
MoMA's New "Reconstructions" Exhibition Spotlights the Intersection of Racism and ...
How does race structure America's cities" That's the question New York's Museum of Modern Art asks with its new exhibition, "A nation constituted in conflict with its own ideals would need to be reconstructed before it could be fully...
America's First 3D-Printed Neighborhood to Pop Up in the California Desert
California's population is growing so fast, the state needs up to 3.5 million new housing units by 2025. That's a tough target to meet using conventional building methods, but recent advancements in 3D printing technology could speed up the...