Gort Scott creates drama with concrete house perched over rocky crag in Whistler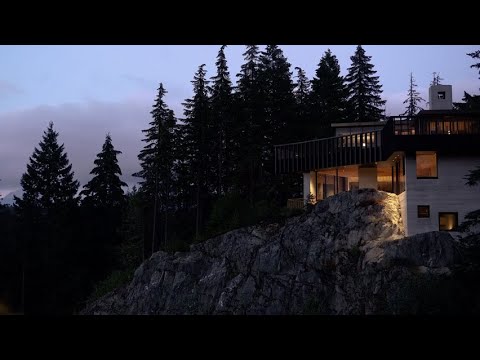 British architecture studio Gort Scott has installed a house on a rocky outcrop in the Canadian mountain resort of Whistler, offering impressive views over Alta Lake.

The Rock is a family home designed to reflect the drama of its setting. Predominantly built from concrete, it incorporates stepped levels intended to echo the experience of traversing the mountainous terrain.

Living spaces are organised around the crest of the rock, combining a mix of subterranean rooms and airy, light-filled spaces. Expansive windows offer framed views of the lake, while a series of terraces allow the family to spend plenty of time outdoors.
Read more on Dezeen: https://www.dezeen.com/"p=1678764

WATCH NEXT: Sunken concrete floor expands Victorian terrace house in London - https://youtu.be/CkZYHSyv-64

Subscribe to our YouTube channel for the latest architecture and design movies: http://bit.ly/1tcULvh

Like Dezeen on Facebook: https://www.facebook.com/dezeen/
Follow Dezeen on Twitter: https://twitter.com/Dezeen/
Follow us on Instagram: https://www.instagram.com/dezeen/
Check out our Pinterest: https://uk.pinterest.com/dezeen/

...
URL:
https://www.youtube.com/user/dezeenmagazine
--------------------------------
Kram/Weisshaar designs reflection-warping Picó Blitz speakers for sound system exhibition